Musicians:
Dagnija Berzina: vocals
Denis Blodgett: tin whistle, guitar, voice
Cliff Cole: hammered dulcimer
Sally Cole: guitar, recorder, tin whistle, voice
Anna Lisa Yoder: violin, viola, mandolin, bouzouki
Rob Yoder: voice, concertina, bodhrán, mountain dulcimer
---
About the recording:
Unity was recorded from April to July of 1991 at MorningStar Communications, Springhouse, Pennsylvania. Live studio performances were mixed directly to a two-track digital master. Two-track digital was the only digital recording technology available at the time. "The Dream" was digitally tracked in 1998 and added to the 2000 CD release.
Unity was produced by DayBreak and Engineered by Glenn Barratt.
Original cover design by Anna Lisa Yoder, adapted for compact disc by Rob Yoder. Anna Lisa finished the cassette cover design and promptly went into labor. She gave birth to our future fiddler, Lydia, the next day.
All arrangements on Unity are by DayBreak, Copyright © 1991, 2000. All rights reserved.
Special thanks goes to our friend and musician John LaValley, who helped to craft and inspire several of these arrangements. Thanks to Ed and Cynthia Zapp, the Tim and Kathy Histand family, and all of those friends and supporters who encouraged us in this process.
---
About the music: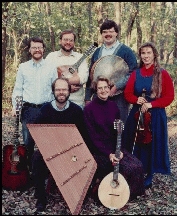 The Unity Jig by Denis Blodgett
Tra Va Ruggit Creest (Christ is Born) / The Butterfly ∼ Manx Carol / Slip Jig, Tommy Potts
The King of Love ∼ Irish Melody
The Swallow Tail / Merrily Kiss the Quaker ∼ Irish Jigs
Edi Beo Thu, Hebene Quene (Blessed be Thou, Heavenly Queen) ∼ Medieval English Song
Laudate Dominum (Sing praise and bless the Lord) ∼ Jacques Berthier and the Taizé CommunityLaudate Dominum, omnes gentes, alleluia!Sing praise and bless the Lord, peoples! nations! Alleluia!
Lead Kindly Light ∼ text, John Henry Newman; music, Denis BlodgettLead, kindly Light, amid th'encircling gloom, lead Thou me on!
The night is dark, and I am far from home; lead Thou me on!
Keep Thou my feet; I do not ask to see
The distant scene; one step enough for me.
I was not ever thus, nor prayed that Thou shouldst lead me on;
I loved to choose and see my path; but now lead Thou me on!
I loved the garish day, and, spite of fears,
Pride ruled my will. Remember not past years!
So long Thy power hath blest me, sure it still will lead me on.
O'er moor and fen, o'er crag and torrent, till the night is gone,
And with the morn those angel faces smile, which I
Have loved long since, and lost awhile!
Psallite (Strike the Harp) ∼ Latin & German carol
Strike the harp to the Only-Begotten, Christ, God's Son,
Strike the harp to the Saviour and Lord, the infant lying in a manger. 
A little child lies in a manger and all the loving angels serve him.
All the loving angels sing to the beautiful child.
Going Home by Rob YoderI wrote this tune the week after my father, Milford Yoder, passed on. It is a celebration of his life and memory. He was always so welcoming of friends and strangers to our home. He always had a smile, a joke, and a poem to share. You could depend on a firm, welcoming handshake from his rough mason's hands.
Céad Míle Fáilte (One Hundred Thousand Welcomes) by Denis Blodgett
Mirstigais, Sai Bridi Kluse (Mortal, in this Moment Keep Silence) ∼ Latvian text, French Melody
Mortal, in this moment keep silence, in reverence bow your head.
Take your leave earthly thoughts; heaven's prize God hands us.
Jesus Christ our Lord now comes to build the kingdom of peace.
Countless ranks of angels proclaim the message of love.
The interpreters of the promised peace break the chains of unbelief.
The powers of darkness will have no hold on us; in the presence of the light they flee.
Heavenly holy beings worship and praise Him without ceasing.
Him whose hands, nail-scarred, write the names of the dearly redeemed.
Alleluia! Sing, sing to Him. Alleluia, to the Saviour! Amen, Amen.


Ny Kirree Fo Naightey (The Sheep are 'neath the Snow) ∼ Manx Gaelic lament
After a winter of snowfall and a springtime of frost,
the young lambs were living but the old sheep were lost.
O rise up, my shepherds, and go to the hill.
The sheep are 'neath snow as deep as can be.
How I grieve for my sheep for not many live,
for there's only the lambs to put under to breed.
There's a wether for Christmas and for Easter there's two,
and two or three more for the time when I'm through.
The Fairies' Hornpipe / The Piper in the Meadow Straying / Christmas Eve ∼ Irish hornpipes / Irish reel
The Dream by Sally Cole
The Unity Jig (reprise) by Denis Blodgett