Traditional Music for a New Day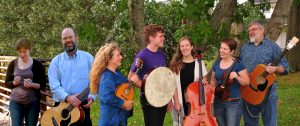 The musicians of DayBreak have been harmonizing together since at least 1989 in and around Lehigh and Bucks Counties of Pennsylvania. Our folk band has enjoyed the company of a few different fine musicians over the years that have added to our repertoire, style, and arrangements. The core of DayBreak for the last many years has come from the Cole and Yoder families. We enjoy applying our rich blend of acoustic instruments and voices to Celtic jigs, reels, hornpipes and ballads; American folk tunes and songs, folk hymns, original pieces, and seasonal songs. Our uniquely-woven sounds, as well as innovative arrangements, bring warmth and freshness to an uncommon range of traditional and current genres.
DayBreak Musicians:
Cliff Cole playing the hammered dulcimer, guitar, and percussion
Anna Lisa Yoder on the violin, mandolin, and bouzouki
Rob Yoder on concertina, guitar, bodhrán, banjo, harp and mountain dulcimer.
DayBreak sometimes includes:
Emily Rose Cole on tin whistle
Seth Yoder on hammered dulcimer, piano, accordion, and bodhrán
Lydia Yoder on violin, mandolin, ukulele, djembe, and bodhrán
Trudy Gojeski on cello, guitar, bodhrán, and mountain dulcimer
Everyone lends their voice to a growing repertoire of winsome and compelling songs.