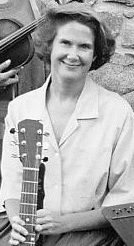 On October 20, 2010 our dear friend, mother of Emily, and former DayBreak musician, Sally Showalter, finished her work here on this earth after an 18 month battle with leukemia.
Sally believed in relationships. She was a loving person who liked to share that gift of love with everyone she met. She was the friend you wanted to have around who had an easy laugh and a gentle touch. We will sorely miss her.
Sally was a founding member of DayBreak, and sang and played with our group for better than 10 years. You can hear her touch on Dawn and Unity.
In 1998 she recorded "The Dream" for our Unity CD. This song was her wish and gift for us all and it is a lasting testament to the person she was.
Thank you to all who supported Sally so faithfully.
The Dream
To download an MP3 of Sally's song, right click on the link below and choose "Save target as…" or "Save link as…" to save it to your computer: Link: The Dream by Sally Showalter
Click HERE > to see Anna Lisa's tribute video using some of her flower photos and Sally's song.
The Dream (Lyrics)

What a lovely thing if the children of the world could live together in peace
I dreamed I saw the lion with the lamb lyin' down in a pasture all of green
And a stream ran through that wildflower-dotted field
And it sang and it whispered where it flowed
Murmuring come, murmuring come
Cool your heels and splash your brow
With a long deep draft come drink my water down
Filling your heart, filling your mind
Come dream dreams with me
Come dream dreams with me

By the river bank the trees
Wave their branches throwing music on the breeze
Singing a song older than time
In the harmony is learned
How to find that stillness for which the heart yearns
Calling you sing, calling you sing
Come sing songs with me
Come sing songs with me
And the missile silos bare
Are all fountains throwing showers in the air
Raining down joy, comfort and peace
And their gentle drops are light
Raining on the eyes now blessed to a gracious sight
Calling you come, calling you come
Stand below me feel the rain
Let it nourish you as it does the grass and grain
Feeding you branch, root and flower
Come see dreams with me
Come see dreams with me